The United States is divided into 13 different zones that serve as a guide for climate by showing temperature ranges and helps you determine which plants thrive within those climates. Learn about planting in the United States Department of Agriculture (USDA) Planting Zone 1 and plants to consider growing.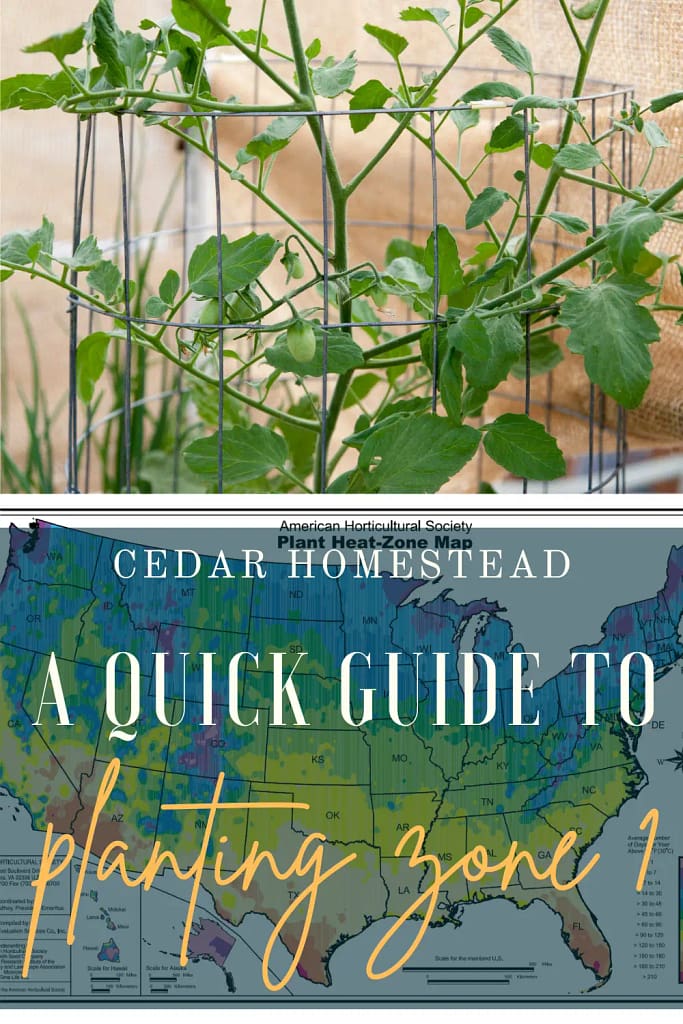 Updated January 21, 2023
Hopefully you now have a basic understanding of the USDA plant hardiness zones, microclimates, and you've been able to identify your estimated first and last frost dates. If you haven't read that blog post yet, be sure to do so!
Quick Announcement – Upcoming Project
If you're following me on Instagram (and hopefully you are!), I provided a sneak peek of an exciting project that I'm working on for you. Give me a follow on Instagram if you're not already doing so. I share tips on a wide variety of subjects and occasionally provide sneak peeks on things I'm working on. 
I gave a sneak peek on my Gardening Foundations Workbook 1! The workbook is a guide that you'll be able to download. It's an easy walk through for identifying your plant hardiness zone, your first and last frost dates, mapping out sun exposure and your own unique-to-your-property microclimates, as well as other information that was covered in my introductory post about the USDA's plant hardiness zones.
Where is Zone 1 Located and What's the Climate Like There?
An easy rule of thumb in terms of temperature for planting zones is: the lower the number, the colder the climate. The higher the number, the warmer or hotter the climate. 
Zone 1 is located in the northernmost part of the United States, but mainly located in Alaska. Interestingly, Alaska has a very diverse range of climates from zone 1 to zone 8.
It is one of the harshest zones to grow plants in due to the extreme temperatures. Perennial plants (plants that regrow each year) aren't recommended to be grown in zone 1. Temperatures drop to below -50 Fahrenheit! The first frost date in the growing season is between August 25 to 31, while the last frost date is between May 22 to June 1. With cool and cold weather crops, you can still get 115 days of growing season.
Quick Tips for Growing in Zone 1
Look for vegetables that have a short growing season. To get a head start on the growing season, it's recommended that seeds are started indoors. Seeds can either be started in your home or in a heated greenhouse. The weather outside is too cold to not have a heated greenhouse. 
I have a whole post on a DIY indoor seed starting rack here.
Hardiness Zone 1 Plants
Cool and cold weather crops would do better in this area as they can tolerate colder temperatures in comparison to warm and hot weather crops. There are not too many warm/hot weather crops that are listed below. 
Vegetables to Consider Growing
Beans

Broccoli

Cabbage

Celery

Endive

Garlic

Kale

Kohlrabi

Leeks

Lettuce

Onions

Parsnips

Peas

Potatoes

Radish

Spinach

Sweet potatoes

Swiss chard

Tomatoes: try these varieties:

Subarctic tomatoes – This variety was developed in Canada and extremely tolerant to colder climates. It takes 50 days to mature.

Manitoba – a Canadian heirloom variety that grows well in extremely northern climates and can tolerate colder temperatures than other tomato varieties.

Polar Baby Bush tomato – a determinate bush variety that was developed in Alaska. It tolerates cooler temperatures and does well in the short growing season.

Turnips
Herbs to Consider Growing
Arugula

Chives

Parsley

Oregano

Rosemary

Thyme
[RELATED POST: USDA Plant Hardiness Zones & Microclimates]
Zone 1 Planting Guide: What to Do Month-by-Month
Up until April, all seeds need to be started indoors. It will be too cold to plant seeds in the ground in this zone.
January and February
Start seeds indoors. As I mentioned it'll be too cold to start any seeds outside. A great way to get quick veggies is to plant microgreens. Microgreens are plant sprouts that you can grow in small, compact trays. 
Get Growing
Great options for microgreens are (just some examples):
Kale

Arugula

Radish

Mustard

Broccoli

Kohlrabi

Beetroot

Mesclun

Cress

Endive
Besides growing microgreens you can start the following seedlings:
Arugula

Broccoli

Cabbage

Lettuce

Kale

Swiss Chard

Spinach
Since there's such a small window for the growing season in this zone, you'll definitely want to get started this month. Don't worry it's not too late if you haven't gotten any seeds though. 
What can you do if you don't yet have seeds
Check out seed companies online and see what you'd like to plant. Since you'll be pressed for time, don't go overboard with buying. Only buy seeds of produce you'll actually eat.

Start planning for the upcoming months. Decide where you're going to plant all of your seedlings once it's time to put them out.
What to do if you're not growing from seeds
If you're not starting from seeds and want to start with seedlings, check out these steps.
Start planning on where you're going to purchase your seedlings.

Start planning for the upcoming months. What do you want to plant?

Create a dream board for your garden. Check out Pinterest. There's so much gardening inspiration to get ideas.

If you plan on having raised beds, trellises, and other things that require building, now's the perfect time to work on those projects.

Are you able to use a greenhouse to extend your growing season?
No matter how you're starting your garden for the growing season, grab a gardening journal. Document everything you do throughout this year. It's a helpful tool to look back, reflect, and jot down your learning experiences. Write down what worked during the growing season and what didn't. If something didn't work out this year, do you understand why it didn't? What are you going to do differently next year to have a successful crop?
[RELATED POST: Indoor Seed Starting: DIY – How to Build a Seed Starting Rack]
March
Around mid-March, it's time to start more seeds indoors. It's still way too cold to plant your veggies outside. Hopefully your plants that you started in January and February are doing well.
Here's a list of seeds you can get started this month:
Cabbage

Celery

Swiss Chard

Endive

Kale

Leeks

Lettuce

Peppers

Spinach
For anyone not starting from seeds, if you haven't completed the above suggestions for January and February, get those done! Next month is the month to start doing some planting outdoors.
If you've already finished your planning, job well done! You can also check with your local extension office for local gardening resources.
April
It's finally April and you have the option to start seeds indoors or outdoors. Always check the seed packets for sowing recommendations.
There are so many veggies and herbs that you can plant this month. You can start the following indoors or outdoors:
Arugula

Basil

Beets

Broccoli

Brussel sprouts

Cabbage

Carrots

Cauliflower

Chives

Cilantro

Collards

Celery

Chard

Corn 

Cucumbers

Dill
Besides starting seeds, there are some other tasks that are necessary to be ready for the growing season. 
Check your tools by sanitizing, fixing, oiling up parts, etc.

Mulch and clean up the garden if the ground is clear of snow. 
Adding mulch to the garden helps with weed suppression and helps retain soil. You don't want all that soil you worked so hard on to wash away!
Prune plants and remove any damaged limbs.
May 
This month you can start transplanting your seedlings outside. But before you do that, check for the last frost date. Any plants that are cool weather crops should be ok outside at this point. For extra protection, you can put up row covers just in case.
Before you fully transplant them, be sure to harden off your seedlings.

Transplant cool weather crops outside.

Start planting herbs outside, like parsley. Any herbs that can withstand cool weather.

Continue sowing seeds indoors.
You can sow the following seeds indoors:
Cabbage

Carrots

Cauliflower

Celery

Chard

Collards

Cucumber

Endive

Horseradish

Kale

Kohlrabi

Lettuce

Parsley

Pumpkin

Radish

Rhubarb

Rutabaga

Spinach 

Summer Squash
June
Have you checked your last frost date? 
It's time to start transplanting and sowing seeds outdoors. Be sure to first harden off your seedlings. Without hardening off your seedlings you may kill off all of your hard work!
Sow these seeds outside:
Arugula

Lima, bush, pole, and snap beans

Beets

Broccoli

Brussels Sprouts

Cabbage

Carrots

Cauliflower

Chard

Kale

Kohlrabi

Lettuce

Peas

Radish

Rutabaga

Spinach

Summer Squash

tomatoes
July
The end of the growing season is nearing, but you still have time to plant seeds outdoors. You can get the following seeds in the ground or transplant:
Arugula

Beets

Lettuce

Kale

Cabbage

Chinese cabbage

Kohlrabi
The end of next month is going to be the end of the growing season.
August
It's almost time to wrap up the garden. The growing season is coming to an end and the weather can be a little bit unpredictable as the last frost may be quickly approaching.
Start removing any debris, dead plants, and general clean up.

If you're composting, compost any dead plants that aren't diseased. 

Get rid of diseased plants. 

When leaves start to fall, shred the leaves and use them as a mulch. Leaves are a great, free option to protect the soil during the next several months until it's time to plant again.

Amend the soil by adding compost. Add the compost first and then layer the leaves over it.

Monitor the temperature for any dips and weather. 

What performed well in your garden? What didn't?  Jot down some notes on the growing season in your gardening journal. What will you do differently next year?

Are you canning this year? You may be working diligently to get everything canned before the weather completely changes.

Have some sort of protection or cover your crops in case the temperatures dip.
What You Should be Doing Daily
One thing I definitely do in the garden every single day is monitor for pests and disease. It's best to try to catch both earlier than later for treatment. With pests like aphids, not paying attention to your plants could easily lead to an infestation. You've worked so hard getting your garden and plants set up! Pests and disease can quickly ruin your crops.
Weed your garden every day. Weeding is my least favorite task in the garden, but you really need to keep up with it. Weeds can quickly take over your garden and then you're left with a big clean up, which really isn't fun. Some weeds are super stubborn to get out of the ground. Staying on top of this task is much more efficient and saves time in the long run. Doing a little bit each time will make it so much more manageable.
Prune plants that need pruning. For example, tomato plants require suckers to be removed. This may not be a daily task but keep an eye on them. Suckers can quickly grow into a whole brunch full of tomatoes before you know it.
That's a Wrap!
Zone 1 may have harsher temperatures, but you can still grow cool and cold weather crops with a little extra preparation. As you prepare to garden in zone 1, remember to take the time of year into account. If you plan carefully, gardening in such harsh climates can be enjoyable and satisfactory. Pay attention to temperatures, seeds and other elements that could make or break your garden. With the right precautions, there are lots of potential rewards to be gained from gardening in zone 1! This experience can be like no other, as it's a challenge even for the most seasoned gardener. Have fun and don't forget to share any tips you may have for those looking to get started on their outdoor endeavor. 
What are you waiting for? Let's start growing!
Other Posts You May Like