This is a guide for beginners who want to grow their own food according to the zone 10 planting schedule. Learn about what plants will thrive, the best planting schedule, and how to maintain your garden throughout the year!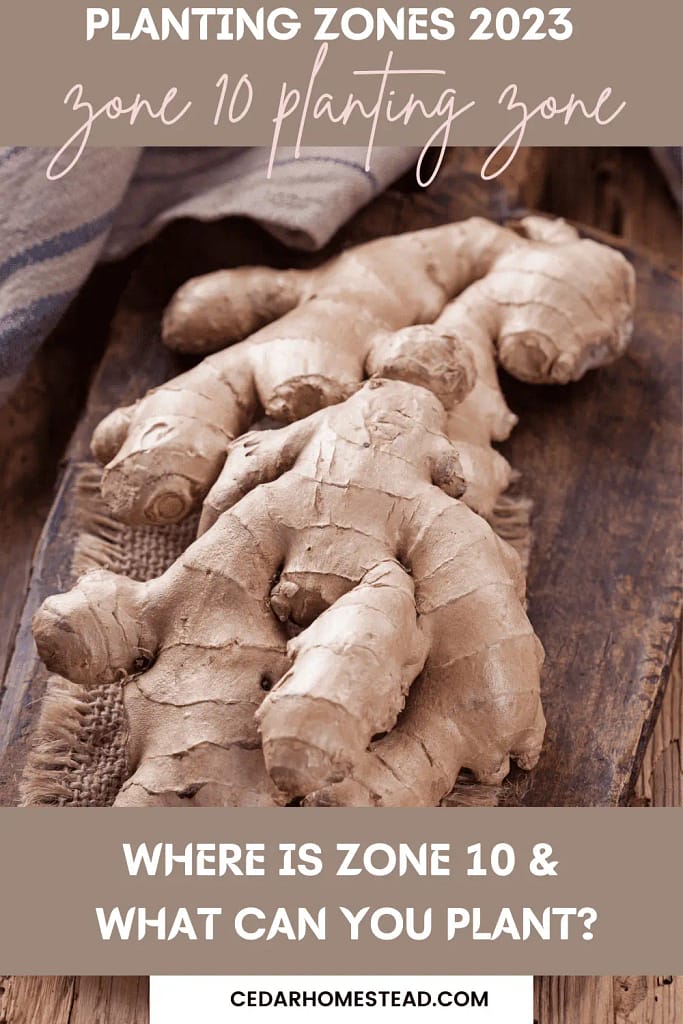 ***Note: Please continue to check back on this post periodically as there will be future updates coming.
An Overall Recap: Knowing Your Planting Zone is Essential
Planting zones are an essential tool for any plant lover, as they allow gardeners to decide which plant varieties can successfully survive and thrive in their climate. They help you determine when your first frost date is after the growing season, and when the last frost date is so you know when to begin planting.
Plant hardiness zones are geographic areas assigned a numerical value based on a plant's resilience in the given region. When buying plants at the store or online, there are usually tags and a description indicating the plant hardiness zone(s) a plant is compatible with. Additionally, the zones help gardeners know what temperature range plants can withstand, how much water is required, when to plant or bring indoors during colder months, and so much more. 
What is Planting Zone 10 and What Areas Does It Cover?
Planting Zone 10 has a very long growing season. It's one to be slightly envious of, but it for sure has its challenges like any zone. It has mild winters, hot summers, and high humidity. Its mild winter temperatures range between 30 to 40 degrees Fahrenheit which makes for great growing even in the winter time. The first frost date occurs late in the year, either at the end of November or even December! The threat of frost may cease towards the end of January, or even earlier. In this zone, there are long, hot days. Consider investing in some shade covers for those hotter days. 
As always, keep an eye out on the weather. As a rule of thumb, I always look at the weather two weeks out from the current date. Of course the weather can change within those two weeks so check for updates.
Planting Zone 10 covers the southern inland portion of California, southern Florida, and Hawaii. 
There are no frost dates to worry about in Hawaii,  but it does get very hot.
Vegetables and Fruits to Consider Growing
There are a wide variety of fruits and vegetables that you can consider growing in this gardening zone. There are long, hot days in this area so keep that in mind when you think about what kind of food you want to grow.
Cassava
Eggplant
Hawaiian chili pepper
Lima bean
Melon
Okra
Papaya
Pepper
Plantain
Pumpkin
Southern peas
Strawberries
Summer and winter squash
Sweet potato
Tomatillos
Tomatoes
Yacon
Zucchini
Herbs to Consider Growing
Aloe Vera
Basil
Dill
Ginger
Lemongrass
Moringa
Oregano
Rosemary
Stevia
Sweet Marjoram
Turmeric
Zone 10 Planting Schedule: What to do Month-by-Month (coming soon!)
Check back for more updates as I'll be adding so much more, plus a guide to download.
Conclusion
Though it may be hot, dry, and seemingly inhospitable, with a little creativity and knowledge, your planting zone 10 garden can become a veritable oasis. Fruits, vegetables, and herbs can all survive – even thrive – in this climate with the right care. So don't let the heat scare you away from starting your own urban farm. Do some research to find out what will do well in your area specifically and then get started planning (and planting)! 
We'd love to hear about your experiences gardening in zone 10 – what worked well for you? What other fruits, veggies, and herbs would do well in this climate? Leave a comment below!