Figuring out what to grow your tomato plants in can be overwhelming. You can grow them in pots, raised beds, in the ground, in hanging baskets, and even in grow bags. Grow bags are a quick, easy solution if you have a limited amount of space for a garden. Here are the 10 best grow bags for tomatoes out on the market!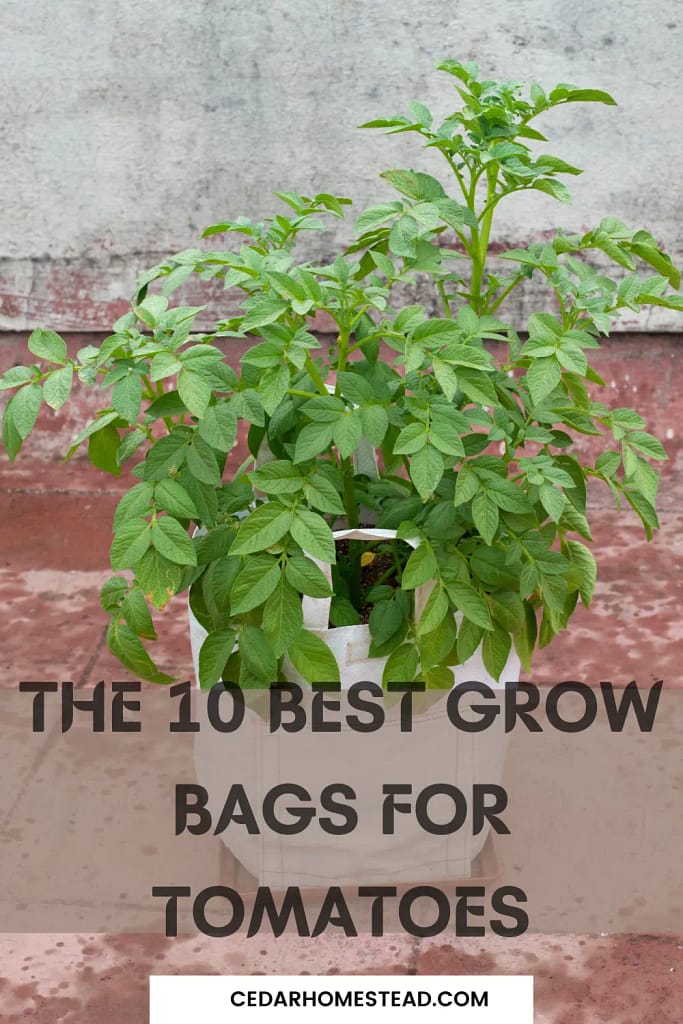 This post contains affiliate links, which means I make a small commission at no extra cost to you. See my full disclosure here.
Grow bags are a perfect solution if you're looking for a quick, easy, and cheap solution if you have a limited amount of space in your garden. They are ideal for small balcony gardens, patios, and backyards by saving space. Plus, there's less weeding involved! You don't even have to have a small garden to use them. Anyone can for whatever reason choose to use grow bags.
I review the 10 best grow bags for tomatoes out on the market, along with providing you with information about: 
what size grow bags to use

the best soil for tomatoes in grow bags

how to make your own grow bags

section about the most commonly asked questions
After this post, you'll have learned about the 10 best grow bags for tomatoes on the market and feel more confident in growing a garden in grow bags. Read on if you're serious about harvesting copious amounts of juicy tomatoes in 2023!
Growing Bags for Tomatoes
Tomatoes aren't picky about where they're grown. They can be grown in different ways from pots to raised beds to an in-ground garden. Not all of us have the space for an in-ground garden, the budget for raised beds or even the pots you happen to find. Grow bags offer a quick, easy, and cheap solution. 
It's as easy as unfolding the bag and tossing in your soil mix.
What is a Grow Bag?
A grow bag is a soft-sided container. They're soft, breathable, and made from polypropylene or burlap. Their material makes them light and easy to carry.  
These materials provide excellent aeration. The sides of the grow bags are porous which allows for what's called "air pruning". "Air pruning" happens when the roots meet the sides of the bag and they're exposed to the air when there isn't any high humidity. The ends of the roots are burned off. This process allows the plant to continuously have new healthy roots growing. Without exposure to the air, the roots become compacted and entangled in a constricting pattern. This can happen in a plastic pot.
Do Tomatoes Grow Well in Grow Bags?
Yes, tomatoes can grow well in grow bags if given the right conditions. Grow bags need to be: well draining, provide the right amount of space, have the correct type of soil, and have all the other necessary environmental conditions like any tomato plant growing outside.
Note: Plants grown in grow bags will require more frequent watering and fertilizing.
Variety of Tomatoes to Consider Growing
For smaller, more compact plantings, I always suggest going with a bush variety tomato, or determinate
Determinate tomato plants are a smaller type of plant in comparison to indeterminate tomato plants. They average about 4 to 5 feet tall. The fruit matures earlier in the season. Determinate tomato plants may need support. Vining tomatoes, or indeterminates, can reach up to 10 feet tall and definitely need support. Bush varieties are better for grow bags.
[RELATED POST: What is the Difference Between Determinate and Indeterminate Tomato Plants?]
What Size Grow Bags for Tomatoes
It's crucial to have the right size grow bag. If the bag is too small, it affects the plant's root system. Accommodating their roots is key. Penn State's Extension suggests using containers that are between 14 inches to 20 inches, with larger pots being able to better support the big root system.
Best Grow Bags for Tomatoes
Which ones are the best to buy? Let's take a look at the top 10 on Amazon.
VIVOSUN offers lots of different products for growing. They have a Smart Growing System which is a hydroponic mylar growing tent. They have different types of grow tents and different options for ventilation, grow lights, humidity control and monitoring systems, and more!
The VIVOSUN grow bags come in a variety of sizes and they are the #1 seller on Amazon. There are over 52,000 ratings with a rating of 4.6 out of 5 stars. The 7 gallon bags would actually be more suitable for tomatoes. One customer even mentioned that the 5 gallon bags were a little too small for tomatoes. Use at least a 7 gallon bag. You could even bump up to the 10 gallon bags. Negative reviews were mostly in relation to handles ripping.
Per VIVOSUN the dimensions for the 7 gallon bags are: 7 Gal. Fabric Pot: D14.3″ x H9.9″ (36 x 25 cm). The company states that the material is BPA-free
VIVOSUN also has a 10-pack should you need more bags. 
Check out their website as they offer lots of different sized bags that may not be available on Amazon.
Note: this is a US-based company.
2. Gardzen 10-Pack 10 Gallon Grow Bags, Aeration Fabric Pots with Handles
The # 2 best selling grow bags are by Gardzen. The 10 gallon bags' dimensions are 10 Gal – 16″ Diameter 12″ Height.(40cm x 30cm), but you may be able to get away with the 7 gallon bags that are just shy of 14 inches diameter. These bags received over 15K ratings with 4.7 out of 5 starts. These grow bags are listed as BPA-free.
What's cool about Gardzen is that they also offer potato grow bags, fabric raised beds, a PVC planter box, and an elevated raised bed.
Gardzen's 20-pack set of grow bags ranked #4, but I'm not going to include them in this list. They're the same bags (dimensions are exactly the same). The only difference is that they come in a 20-pack versus a 10-pack.
3. AC Infinity Heavy Duty Fabric Pots, 7 Gallon Aeration Grow Bags 5-Pack with 500G Thick Nonwoven Fabric and Multi-Purpose Rings
AC Infinity is a US-based company that offers a wide variety of products such as: grow tents, grow systems, LED light boards, inline fans, clip fans, carbon filters, seed mats, AV and HVAC cooling, in addition to the grow bags.
The grow bags seem to be super sturdy in comparison to the other grow bags we've looked at so far, and even in comparison to the ones I have. They're made out of "tough, heavy-duty fabric" (although they don't say what the fabric is) but they also have built in metal rings. They received over 2k ratings and 4.8 out of 5 stars. 
Honestly, I would choose these grow bags looking back on our experience with ours. Our grow bags don't have any metal rings.I think having those metal rings would make the sides much more sturdy and not flop inward.
Note: This is a US-based company.
4. JERIA 12-Pack 10 Gallon, Vegetable/Flower/Plant Grow Bags, Aeration Fabric Pots with Handles
Jeria is another company that offers various types of products and not just for gardening. Their products include shopping and storage bags as well.
These grow bags received 93,000 ratings and 4.7 stars out of 5. Their 7 gallon bags are slightly smaller in diameter in comparison to the ones we've looked at thus far. So you may want to buy the next largest size which is 10 gallons. The 7 gallon bags' dimensions are 13″ x 12″ (33cm x 31cm), while the 10 gallon bags are 16″ x 12″ (40cm x 31cm).
These bags come with plant labels which will come in handy when you start planting. I honestly have a habit of not keeping up with marking my plants and wind up not knowing where I planted each variety.
5. Homyhoo Potato Grow Bags with Flap 10 Gallon, 4 Pack Planter Pot with Handles and Harvest Window
The Homyhoo bags are different from the previous bags. They can be used for all sorts of vegetables (just like the other ones), but these can be used for growing potatoes as well. On the side of each bag, there is a harvest window. These bags received 2,937 ratings and 4.5 stars out of 5. With these bags there were some comments about the size not being accurate. 
Note: I did notice there was a person that commented that it was difficult for them to grow vegetables indoors with these grow bags. Another commented that these grow bags don't hold water. 
None of these fabric grow bags are meant to hold excess water and are porous. They are meant to allow water to escape for drainage purposes. All containers that are used for growing need some sort of drainage otherwise the roots of the plants sit in a puddle of water. Most plants don't like having very wet roots and it'll lead to root rot. Container gardens in general need to be watered more frequently in comparison to raised beds or an in-ground garden.
Other negative comments for these grow bags were that there was moss and mold growing in them. These are just a couple of things to keep in mind. The majority of the ratings spoke highly of them.
JNYONG has 6 different sizes of grow bags available on Amazon, and they only offer each of the sizes in 12 packs. The fact that they only offer 12 packs can be seen as a negative. In comparison to the other companies, they all offered various quantities.
These bags received 1,873 ratings and 4.6 stars out of 5. For tomatoes, you may want to choose the 10 gallon grow bags. Their dimensions are 16″ x 12″ (40cm x 31cm). In reviewing some of the negative comments with this brand, it seems it too has discrepancies with the dimensions.
PHYEX offers products for pet supplies, home and kitchen goods, and gardening supplies. They received 7,522 ratings with 4.7 stars out of 5. You may be better off buying the 10 gallon bags as the 7 gallon bags are just shy of 14 inches.
The dimensions for both bags are as follows:
 7 gallons pot dimensions : 13.6″ Diameter 12″ Height
10 gallons pot dimensions : 16″ Diameter 12″ Height
*** The dimensions on this one are a bit confusing though. Further down in the posting for this product it states different dimensions for the 7 and 10 gallon bags. However, many verified purchasers stated they grew tomatoes in these bags. There were a couple of negative comments about the sizing. It may be best to avoid this brand as the dimensions in the posting are contradictory and has been noted by some of the reviewers.
iPower has a whole Amazon store dedicated to growing supplies that you should probably check out. They offer supplies similar to AC Infinity and VIVOSUN. Their website covers a range of different topics from home to garden, in-home farming, and pets and wellbeing. However, I couldn't find where they're based out of on their website.
On Amazon's website there are limited options as to which size grow bag you can purchase. There are options from 3 gallons to 20 gallons, but as of the writing of this post, only the 7 gallons and 15 gallons are available. Their 7 gallon bags are a good option to go with since their dimensions are ​ 14 inches x 12 inches. 
They haven't received that many ratings on Amazon – only 137 ratings and 4.5 stars out of 5. 5% of the ratings are negative reviews.
247Garden probably offers the most variety in sizes. They range from 1 gallon all the way up to 200 gallons. Their largest size would be great for small trees, large plants, or even a little herb garden, as they suggest. For tomato plants, the 10 gallon bags are the way to go. However, in the title of the product and the description of the product list conflicting dimension measurements. The title shows that they're 13H x 15D, but lower down in the description it notes the dimensions are 12″D x 12″W x 12″H.
In spite of the discrepancies these bags received 8,759 ratings and 4.6 stars out of 5.
These grow bags are from iGarden. Unfortunately they don't have an Amazon storefront or a website I could find that provides more information about the company. There are 3 different size grow bags that they offer: 8-pack of 5 gallons, 6-pack of 10 gallons, and 8-pack of 7 gallons. They've received 1,784 ratings and 4.7 stars out of 5. Their 10 gallon bags' dimensions are 13.78" x 15.16".
As with most of the grow bags, iGarden's seem to have an issue with dimensions, but overall, the ratings are positive.
[RELATED POST: How to Grow Tomatoes in Pots]
Other Grow Bags to Consider
These are grow bags that I found that are the best according to Google reviews  that are USA made. USA made products are more of a preference for me, however, you'll find that they tend to be more expensive. Most of the top rated grow bags on Google are from a company called Smart Pot. Their products range from fabric planters to two different types of fabric raised beds, and a round shaped raised bed. These seem like they would be great options to consider for raised beds in terms of cost.
AC Infinity ranked amongst the highest rated grow bags as well.
Best Soil for Tomatoes in Grow Bags
The most important thing to remember when putting soil in your grow bags, do not use soil from your yard or garden. The soil you find in your yard or garden isn't suitable for growing plants in any type of container. It will not have the correct properties for drainage and can introduce pathogens. 
Potting soil is made specifically for helping with drainage but they also maintain the right amount of moisture to help prevent drying out in between waterings.
For my garden, I only use organic soil mixes. I've used Epsoma and Miracle-Gro's Organic soils. They've both worked very well for their purposes. The below list are organic potting mixes from various companies. They fit a wide-range of budgets – from cheaper end ones that work great to more expensive ones. 
Note: Although some of these soil mixes say that they can be used in raised beds, I would not use them to fill raised beds. You'll need a larger volume of soil and filling it with these smaller bags will be quite expensive. Instead order soil in bulk from a nursery.
Make Your Own Grow Bags
If you don't want to buy grow bags, consider making your own. I've seen lots of how-to's out there that suggest using objects like a cloth tote, old pillowcase, and other ideas.  t's expected that you'll have to water the grow bags more often, you'll want to keep in mind what type of material you use. You don't want all of the water emptying out!
 I've also seen people suggesting using plastic bags. I would stray away from plastic bags. It'll make the soil way too moist since the plastic isn't breathable and doesn't provide enough air circulation.
What Types of Material to Consider Using
Consider using the following materials you may have on hand:
Felt

Burlap bags

Polyester

Landscape fabric
FAQ
How many tomatoes can you grow in a grow bag?
Plant only 1 tomato plant per grow bag. It may seem like a great idea to have more than one plant when they are small, but they need room to grow and have adequate air circulation.
Is it better to grow tomatoes in pots or grow bags?
Really it's all about preference, budget, and buying the right pots and grow bags. With whichever you choose to use, drainage is important. Many gardeners have success growing in both types of containers.
How often should you water tomatoes in grow bags?
As I previously mentioned, all container gardens require more frequent watering in comparison to raised beds or an in-ground garden. The reason for this is that it's a smaller amount of soil, better aeration which causes the soil to quickly dry out, heat of the day, and drainage. Monitor the moisture of the soil and go by weight of the bag. If the bag is still heavy from the last watering, there's no need to add more water. If the bag is feeling very light, it's time for another drink!
Can you reuse soil from grow bags?
It's possible to reuse soil from grow bags, but I would proceed with caution. If for some reason your previous plantings developed any type of disease, don't reuse the soil. Pathogens can be transferred from one plant to another by reusing contaminated soil. If your plants were healthy, then you can reuse the soil. Keep in mind that you may need to add some amendments to the soil. The previous planting used the nutrients from the soil and those nutrients may need to be replaced.
What to do with grow bags at the end of the season?
The great thing about grow bags is that you can empty them, rinse them out, air dry them, and store them away at the end of the season. Some grow bags even state you can use a mild soap to clean them out. The manufacturer may have care instructions for the bags that you buy.
What do you do with grow bag soil at the end of the season?
This depends on what you've been growing in the grow bags. Some gardeners who plant potatoes and carrots in their grow bags leave the plantings in them during the wintertime. They simply pick what they need throughout the winter. If you plan on storing your bags away, dump the soil out of the bag to be used in your in-ground garden or if you have other types of plantings. Only do this tif the plant in the grow bag had no disease. I would not add the soil from the grow bag back into your original bag of soil. Keep your bag of soil as contaminate and moisture free as possible.
How many times can you reuse grow bags?
As long as you take proper care of your grow bags, they should last you many growing seasons. It'll also depend on the durability of the material they're made out of. I'm not particularly fond of the grow bags I have, I've used them already twice and they'll be going on their third year with plantings.
Do I need to make holes in grow bags?
No, you do not need to make any holes in the grow bags. They are made from porous materials that allow drainage. If you find that the soil is too moist in the grow bag, reduce the amount of waterings. You're most likely overwatering your plants.
Do I need to wash grow bags?
If you're storing them, or you had a diseased planting, yes, wash them.
What are the advantages of growing in grow bags?
 There are many advantages to using grow bags that haven't been discussed yet. The advantages of grow bags are:
Quick and easy set up

Portability/easy to move around

Can be stored away when not in use

Variety of sizes

Easy to clean

Affordable

Great for small gardens

Lightweight and easy to move around

Provide good drainage

Long lasting (dependent on material and care taken)

Healthy root system

Plants don't overheat 

They can be environmentally friendly if biodegradable materials are used
What are the disadvantages of growing in grow bags?
There are some disadvantages to using grow bags that need to be highlighted. The disadvantages are:
Limited to varieties of plants – determinate tomato varieties are best

Possibility of overwatering your plants

Depending on the type of support system you choose, it may be difficult to set up in the grow bag

Beware of materials used. Look for food grade safe materials.

More frequent watering

Durability 

I've put durability under the con section as well. It depends on the materials used to make them and how they are taken care of. You may have to replace them.

May be very heavy 

Depending on the size of the bag, amount of soil in the bag, the size of the plant, and other factors, they may be very heavy and not as portable.

Handles breaking

In the reviews a common trend was that many of the bags' handles broke.

Inconsistent measurement 

There doesn't appear to be a set standard in measurements. They all vary by company.
[RELATED POST: The Pros and Cons of Container Gardening]
Are grow bags toxic?
It depends on the materials used to make them. Look for materials that are food grade safe, just as you would for any other type of material.
This post was all about the best grow bags for tomatoes to help you with your research and know your options for starting your garden. Grow bags offer a sustainable and easy-to-use option for gardening that takes all of the guesswork out of planning, planting and harvesting. With so many sizes and shapes to choose from, you can find the perfect size tomato grow bag for your space needs. Be sure to research soil types and the best fertilizer for tomatoes in grow bags before embarking on your backyard vegetable adventure! The best part is that if you ever need more than one type of grow bag, there's an easy way to make them yourself with non-toxic recycled materials. Thinking about growing tomatoes this year? Give these great grow bags a try—you won't regret it!
Now let's hear from you! What other tips about grow bags do you have for other gardeners? Share below!
Other Posts You May Like