This quick and easy lemon ricotta pasta takes just 15 minutes. So if you're looking for a quick lunch or dinner, this may be a great option for you. It has a subtle lemon taste in a creamy ricotta sauce.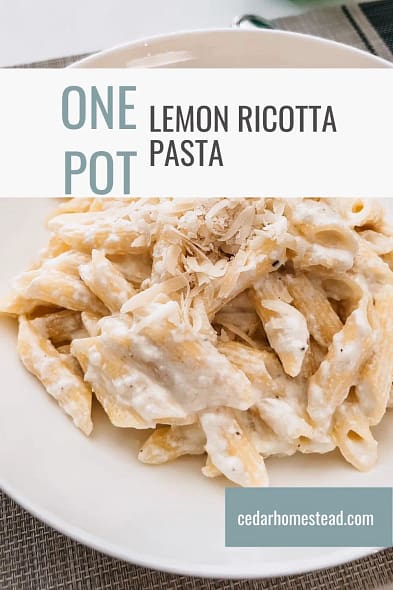 Not a lot of prep, not a lot of time
This quick and easy recipe just takes 15 minutes to make. As the pasta's cooking, the ricotta sauce can be whipped up in no time. Not only does it take just 15 minutes, but you only need a few ingredients to make it.
Tools You'll Need
Large pot
knife
Small bowl
Cutting board
spoon
Ingredients You'll Need
Salt
Pepper
4 tbsp butter
1-2 tbsp of lemon juice 
2 cups of whole milk ricotta
½ to 1 cup of pasta water reserve
2 cloves of garlic, minced
Olive oil
⅓ cup of parmigiano reggiano, extra for garnishing
1lb pasta (can use Gluten-free)
***Note: The dish can easily be made gluten free. The only ingredient that you'll need gluten-free is the pasta. All other ingredients are already gluten-free friendly. I always use Barilla's gluten-free pasta since it's the best I've found. It's made out of corn and rice. Pay attention to the cook time and like any pasta, don't overcook it! Cook to the recommended al dente time. Barilla is the only pasta I've found that holds together very well after cooking. However, the taste is not the same the next day.
[mv_create key="10″ type="recipe" title="Lemon Ricotta Pasta" thumbnail="https://mlhgh9gr38ym.i.optimole.com/w:auto/h:auto/q:mauto/f:best/https://cedarhomestead.com/wp-content/uploads/2022/06/Lemon-Ricotta-Pasta.jpg"]