A quick and easy recipe of sausages, potatoes, onions, and garlic all cooked up in just one pan.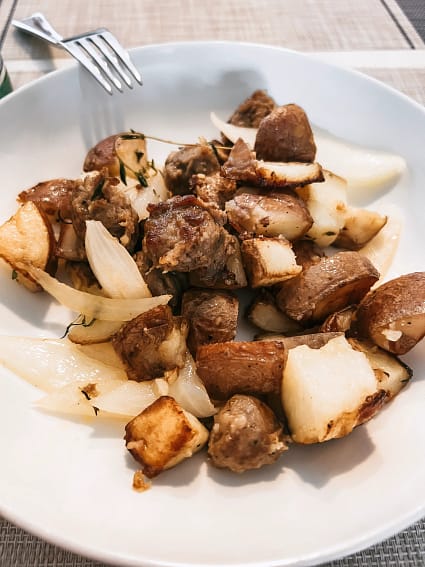 It's been hot on and off over the past few weeks. Temperatures reached into the 90s with "feel-like" temperatures at 100 degrees Fahrenheit. We've been trying not to use the oven at all costs. Thankfully it wasn't as hot today as it has been. But I still wasn't prepared to use the oven so I whipped up this one pan sausage and potatoes recipe.
Tips for the Sausage and Potatoes Recipe
Opt to boil the potatoes first for about 10 minutes to soften them up.
If you don't want to boil them, the biggest help in cooking the potatoes is to cut them into small pieces. I quarter the potatoes and sometimes cut them even smaller depending on the size of the potato.
The key ingredient to this recipe are Italian Pork Sausage Links from Butcher box. They are seasoned so well and I can't boast about them enough. If you don't have Butcherbox Italian Pork Sausage Links, season the meat with salt, fennel, pepper, and paprika.
[mv_create key="9″ type="recipe" title="One Pan Sausage and Potatoes" thumbnail="https://mlhgh9gr38ym.i.optimole.com/w:auto/h:auto/q:mauto/f:best/https://cedarhomestead.com/wp-content/uploads/2022/06/Sausage-and-Potatoes-scaled.jpg"]
Other Italian Sausage Recipes
Easy Homemade Sweet Italian Sausage Red Cabbage Carrot Recipe
Stuffed Acorn Squash with Sausage, Spinach, and Dried Cranberries