Try this tasty homemade/from scratch honey garlic ginger chicken stir fry served with Haricot vert string beans and ginger garlic rice.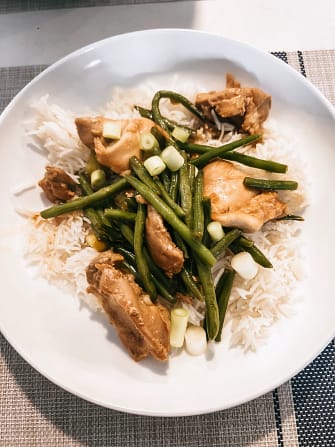 Variety is good
We love a variety of cuisines ranging from Italian, Greek, Japanese, Thai, and Vietnamese… Just to name a few. We're foodies at heart, especially me! 
Is anyone else besides me incapable of eating the same dishes over and over again? Don't get me wrong. There are definitely dishes that are my favorite and I could eat them repeatedly. But for the most part, I love variety and I'm always trying something new. Good thing my husband doesn't mind and likes to chow down.
Chinese-inspired Honey Garlic Chicken Stir Fry
When we're in the mood for some Chinese food, sometimes it's better to eat it homemade. It's healthier and you can switch out the veggies you use giving it more flexibility than what you'd get from the Chinese restaurant. It allows you to make the dish on your own time rather than waiting to pick it up or have it dropped off. This dish can be made in as little as 30 minutes! I'll be giving the main ingredients for the recipe (how I make it) as well as substitutions and additions to try based on your tastes.
Ingredients You'll Need for the Honey Garlic Chicken Stir Fry
Boneless, skinless chicken thighs, or skinless, boneless chicken breast: For this recipe, I use boneless, skinless chicken thighs. The darker meat adds more flavor to the dish. If you're not a fan of dark meat though, chicken breast will do the trick too.
Olive Oil
Haricot Vert String Beans: Hericot vert string beans are a French long, skinny string bean that has a light, crisp taste.
Green onions/scallions: these are cooked up both in the pan and sprinkled on top raw.
Rice: We always use basmati rice any time we make it. It has a lot more flavor to it than just regular white rice.
Garlic: No dish is complete without garlic. It's very much a staple in our house and usually what we use in most of our dishes.
Honey: It's a natural way to sweeten up a dish and adds a yummy flavor. We only use raw honey.
Fresh ginger: Fresh ingredients are always better to use. Fresh ginger gives a little zing to the dish. If you don't have fresh, powdered ginger will work ok.
Soy sauce: this dish wouldn't be complete without soy sauce. Since there's already plenty of salt in soy sauce, then there's no need to add any additional salt to this dish.
Cornstarch: It'll be used to thicken up the sauce.
Chicken broth
Can I add other or use different vegetables?
Absolutely! Stir fries are really flexible with the vegetables you use. Use whatever vegetables you have on hand.
Here are some suggestions:
Sugar snap peas
Green beans
String beans
Broccoli
Bell peppers
Carrots
Mushrooms
Onions
Bok choy
Cabbage
Edamame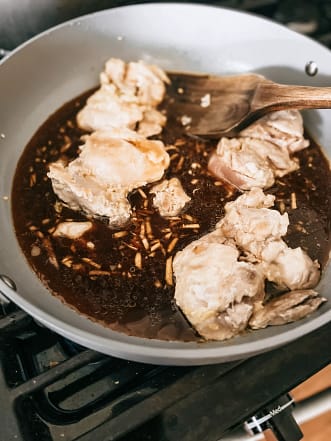 Can I use frozen vegetables?
Yes, I've used frozen vegetables. Fresh ingredients are always best because they'll provide a vibrant flavor with a crunch. But if you don't have all fresh vegetables on hand, feel free to use frozen.
Tools You'll Need or the Honey Garlic Chicken Stir Fry
Cutting board
Knife
Rice cooker
Frying pan
Small bowl
Whisk
How to Make Rice in 20 minutes
To make rice in just 20 minutes, one of the best investments you can make is a rice cooker. Rice cookers do more than just cook rice though. They can be used for making soups, slow cooking, and so much more.
For this recipe, I made 2 cups of rice. Toss the 2 cups of rice into the bucket of the rice cooker. Before adding any liquid, rinse the rice with cold water. We rinse our rice because it comes in a burlap sack. Although there's a plastic bag the rice is enclosed in, it's not a pre-rinsed rice. There can be a little debris in the rice. Rinsing rice also removes excess starch.
Place the rice cooker bucket back into the machine. Fill slightly above the 2 cups line level indicated on the inside of the bucket. Next add a teaspoon of garlic and ginger powder. Close the lid and set the rice cooker setting to 'quick rice'.
[mv_create key="7″ type="recipe" title="Honey Garlic Ginger Chicken Stir Fry" thumbnail="https://mlhgh9gr38ym.i.optimole.com/w:auto/h:auto/q:mauto/f:best/https://cedarhomestead.com/wp-content/uploads/2022/03/Honey-Garlic-Ginger-Chicken-Stir-Fry-2-scaled.jpg"]