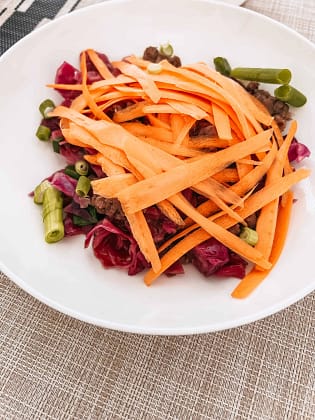 Try this flavorful, colorful dish with simple ingredients like ground sweet Italian sausage, red cabbage, and carrots.
Experimenting in the Kitchen
Sometimes it's a last minute scramble to figure out what to cook for dinner. Recently, I discovered a new organic store to shop at. What drew me to this store is that it's sort of a chain, but not. Plus it brings in lots of local produce and products. Interestingly, they happen to carry honey that's produced by the beekeeper we got our bees from. (Now, I just realized I've never mentioned our bees on this blog before!) 
Anyway, I bought a whole bunch of produce from potatoes to red cabbage and green onions, just to name a few.  Naturally, I jump on Pinterest to try to find a recipe, but no dice. It was interesting but I couldn't find anything, which rarely happens. Obviously I wanted to cook what I had on hand. So this concoction of sausage, red cabbage, and carrot dish was born to make a really colorful dish.
Sweet Italian Sausage, Red Cabbage, and Carrot Recipe
This dish is an interesting combination since it uses ground sweet Italian sausage, which is the star and focus. The key to the dish is actually the sweet Italian sausage since it supports the dish with a lot of flavor. I get our ground sausage from Butcher Box, which is seasoned with salt, spices (like fennel, pepper), and paprika. If you don't have access to Butcher Box, you can definitely incorporate these spices while cooking the sausage.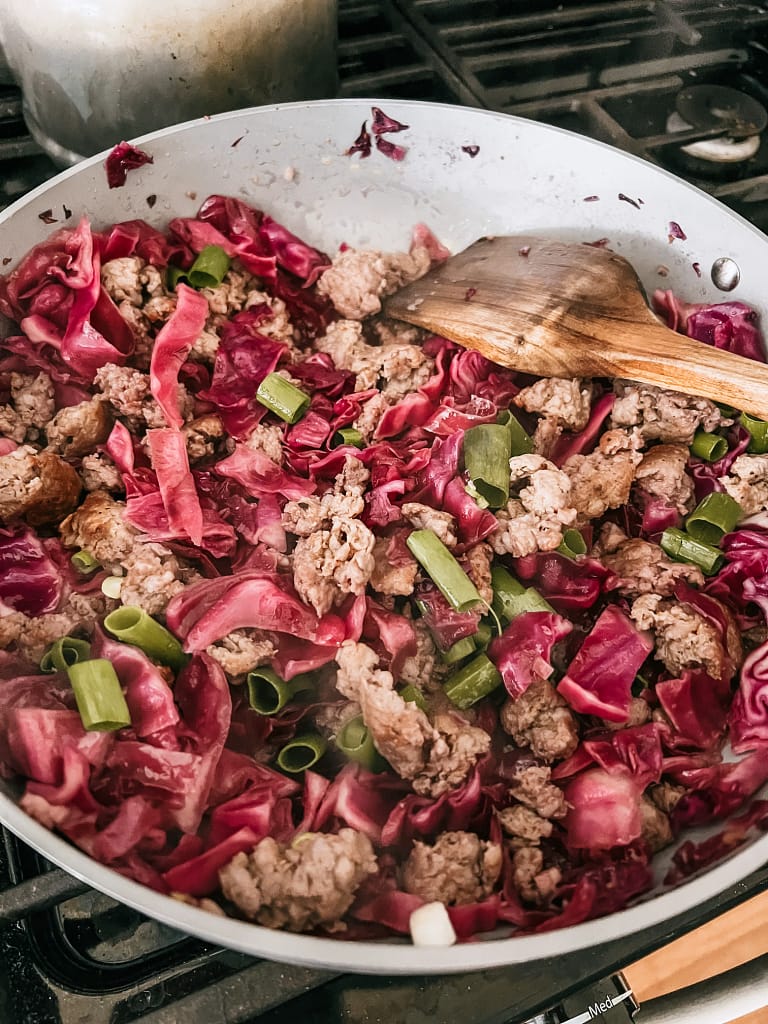 Ingredients You'll Need for Sweet Italian Sausage, Red Cabbage, and Carrot Recipe
Ground sweet Italian sausage (add spices if needed)
Red cabbage
Green Onions
Carrots
Rice Vinegar
Chicken broth
Can I Use Frozen vegetables?
I would use all fresh ingredients for this recipe. 
I don't have rice vinegar. What can I use?
If you don't have rice vinegar on-hand, you can substitute it with the following: white wine vinegar, champagne vinegar, sherry vinegar, apple cider vinegar, lemon juice, white balsamic vinegar, and white wine.
[mv_create key="8″ type="recipe" title="Sweet Italian Sausage Red Cabbage Carrot Recipe" thumbnail="https://mlhgh9gr38ym.i.optimole.com/w:auto/h:auto/q:mauto/f:best/https://cedarhomestead.com/wp-content/uploads/2022/05/Sweet-Italian-Sausage-Red-Cabbage-and-Carrot-scaled.jpg"]
Other Recipes You Might Want to Try
Gluten-Free Honey Garlic Ginger Chicken Stir Fry
Stuffed Acorn Squash with Sausage, Spinach, and Dried Cranberries