This is part II about indoor seed starting. If you haven't read Part I, see Growing Your Food – Why to Start Your Seeds Indoors to get caught up. Part II discusses how to build your own seed starting rack. I've compiled a couple of things that you'll need to get if you're interested in our setup. 
This post contains affiliate links, which means I make a small commission at no extra cost to you.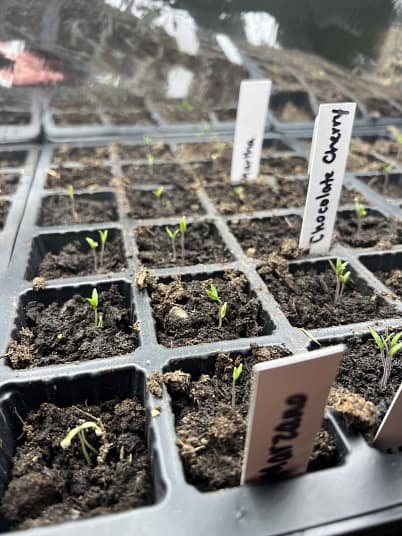 Updates on the homestead
Although I've been growing a garden for a long time, it's only until recently that I started growing from seeds. Usually I went to the store to buy plant starts. Last year was the first time I tried to grow everything from seed. Although most of the garden was grown from seeds, I nervously ran out to the store to buy some plants because I didn't think we'd get any harvest from our own seedlings. Fortunately, everything worked out. All of our seedlings grew strong and produced lots of fruit. (At least ones that weren't killed off by insects, like our squash)
This year is going to be even bigger and better. We will only have our own homegrown plants in our garden this year. The seeds were sowed earlier in comparison to last year. Last year, I didn't start sowing seeds until towards the end of April because of poor planning. I'm more prepared this year since I have a better set up.
That leads me into our main discussion about building your own seed starting rack.
What You'll Need to Build a Seed Starting Shelves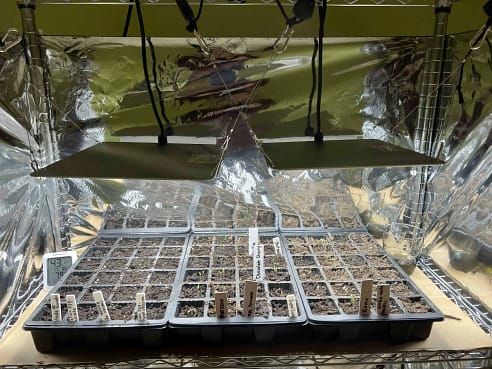 How to Build Your Seed Starting Shelves with Lights
For the assembly of the seed starting rack, follow the instructions provided with it. There's a video on Amazon's website that outlines the assembly as well. It's super simple to assemble!

Attach the Bloom Plus LED Grow Lights. We put one light on each shelf. The instructions state to hang the light 20 inches above the plants which is not ideal when trying to germinate. The temperature may have to be really warm depending on the seeds. We experimented by first putting them at the suggested height and then slowly lowered them closer to the trays on the shelves.

As a tip, the cord on the back of the light panel causes the front of the unit to tilt downward. We looped the cord up and over the shelving to even it out. (Shown below)
Attach the reflective film to the exterior of the shelving with the aluminum foil tape. Shiny part facing inward!