Try out this refreshing, healthy green smoothie made with ginger, banana, apple, spinach smoothie. An easy hack to get more vegetables and fruits in your diet.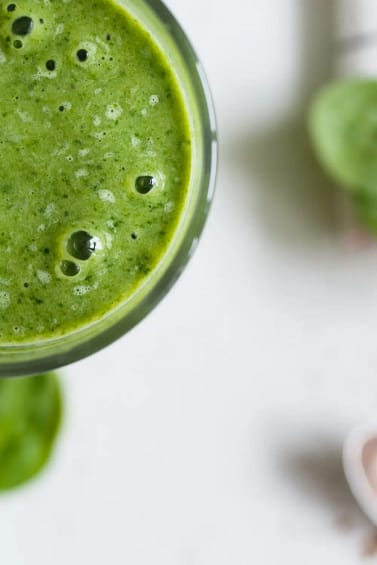 A Healthy Green Smoothie that Tastes Good
Any time I hear about a green smoothie, I'm always hesitant to try it. In my opinion, green smoothies have a tendency to taste gross to me. This smoothie is just too good to put down though. It's the perfect and easiest way to get in your vegetables and fruits, and it's a great snack to have. Below you'll find some tips on how to make healthy smoothies.
Tips on How to Make Healthy Smoothies
Fresh, Organic, Good Quality Fruits and Vegetables
Organically grown fruits and vegetables have far less pesticides in comparison to their conventionally grown counterparts.  Standards do not allow the synthetic use of pesticides. Whenever possible, try to buy organic as often as often as you can. If you can't buy all organic, there are 12 fruits and vegetables that the Environmental Working Group (EWG) lists as the dirtiest ones. They are sprayed heavily with pesticides. These pesticides leave a residue on the produce too.
The 12 fruits and vegetables that you should definitely try to buy organic are: strawberries; spinach; kale, collard greens, and mustard greens; nectarines; apples; grapes; cherries; peaches; pears; bell peppers and hot peppers; celery; and tomatoes.
For more information on this topic, check out EWG's 2021 Shopper's Guide to Pesticides in Produce. EWG also has a list of the cleanest produce, which are fruits and vegetables with the least amount of pesticides.
The best fruit and produce to use though is anything from your own farm or backyard garden. If that is not an option, opt for locally grown.
Healthy Liquid Base
For this recipe, I use a coconut water base. I would not use fruit juice as a base since that will add more sugar to your smoothies. There are other bases to consider for smoothies: filtered water, almond milk, cashew milk, and any other kind of nut milk.
Variety of Fruits and Vegetables
Smoothies with a variety of fruits and vegetables are just tastier. Sweeter fruits balance out the bitterness of veggies like kale. Variety gives you the ability to eat more fruit and vegetables, as well as include ones you may not have eaten if they weren't in a smoothie.
Hemp Seeds, Avocado.. All the healthy fats!
Healthy fats in a smoothie are a great option to incorporate them into your diet. Add things like hemp seeds, chia seeds, or even coconut oil. I've always liked adding in chia seeds because it helps to thicken up the smoothie. Chia seeds absorb liquid and swell. They absorb a lot of liquid so they will help you feel full. You will also feel full for a longer period of time.
Use Superfoods
Add in elements like ginger, cacao powder, maca powder, or spirulina.
Ginger is actually a root that's closely related to turmeric and cardamom.  It has a long history of supporting health from aiding digestion, reducing symptoms of nausea, and helping with ailments like the common cold. There are even studies that support its ability to help lower blood sugar and cholesterol levels.
Cacao powder is not to be confused with cocoa powder! Cacao trees produce beans that make both cacao and cocoa powder. However they are processed differently. After the beans are harvested, they are fermented. Once the beans ferment, they are either processed as cacao or cocoa powder. 

Cocoa powder undergoes high temperatures during processing. It is less bitter than cacao, sweeter, but because of the high temperatures used for processing, it loses its nutritional value.


Cacao powder is produced at a low temperature. Although it has a bitter flavor to it, it's jam packed with all kinds of nutrients. It has antioxidants, magnesium, iron, flavonoids, and phenylethylamine (or PEA). It may help improve your mood.Let's just say that banana and cacao powder in a smoothie taste amazing together!
Maca powder comes from the maca plant that has been used for thousands of years in Peru and native to the Peruvian Andes mountain range. The root contains fiber, amino acids, vitamins, minerals, and bioactive compounds like acamides, macaridine, alkaloids, and glucosinolates. It may help with libido, fertility, mood, energy, skin health, and cognitive function.

Spirulina is a cyanobacteria and also called blue-green algae. Although it's not the best smelling, it is extremely high in nutrients and perhaps the most nutritious food on earth. However, make sure to get spirulina from a reputable source. It's something you should definitely research since blue-green algae harvested from the wild can have high amounts of toxic metals. If high amounts of toxic metals are consumed it can cause either stress on the liver or damage to the liver. I get mine from Nutrex Hawaii. Nutrex Hawaii is located in Kona, Hawaii and harvests its microalgae from its parent company, Cyanotech's, 90-acre farm. The farm is located on what was once a lava flow. It also has very dedicated practices for environmental sustainability from clean energy like solar power, the use of cold deep seawater for its air conditioning, to one of the most sustainably grown crops.
Do you need ice to make a smoothie?
No, you don't need to necessarily use ice in your smoothie. If you want a thicker smoothie, ice or frozen fruit is an option.
What tools you need to make this recipe
You'll need the following tools for this recipe
high speed blender
knife
cutting board
Instructions
[mv_create key="5″ type="recipe" title="Ginger Banana Apple Spinach Smoothie" thumbnail="https://mlhgh9gr38ym.i.optimole.com/w:auto/h:auto/q:mauto/f:best/https://cedarhomestead.com/wp-content/uploads/2022/03/apple-smoothie.png"]