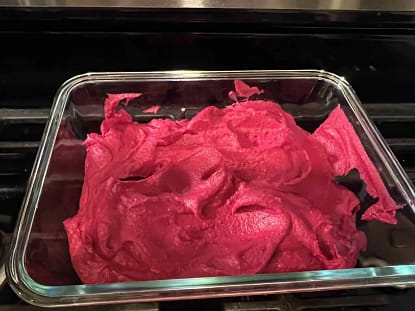 This post contains affiliate links, which means I make a small commission at no extra cost to you. See my full disclosure here.
It's an Addiction
Ok I have to admit that I have a little bit of an addiction and that's to roasted beet hummus. Regular chickpea hummus is good, but roasted beet hummus? It takes it to a whole other level and it's super addicting. If you follow me on Instagram you've probably seen me share videos of me roasting beets and blending up all the ingredients. It comes out to be the most beautiful shade of dark pink. Typically we use the hummus as a dip for carrots and celery lately. I've been really pushing us to eat seasonally and locally so we are getting the freshest ingredients possible. It's a great dip for other types of veggies too. We've used it as a 'sauce' for baked chicken and it was honestly out of this world. So I thought it was about time to finally share the recipe!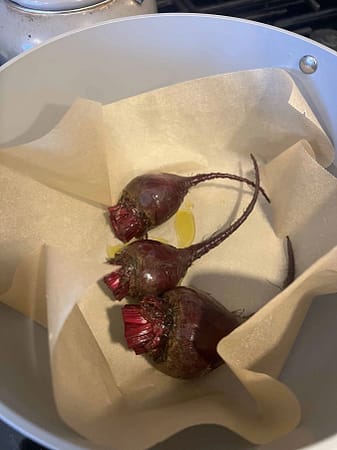 What is Hummus and What is Hummus Made of?
Hummus is a Middle Eastern dip that's made with mashed chickpeas, tahini, lemon, and garlic. It can be garnished in several different ways:
Parsley
olive oil
whole chickpeas
pine nuts
Paprika, cumin, or other spices
Chopped tomatoes
Cucumbers
Caramelized onions
Hummus is pretty flexible when it comes to what you garnish it with and what you eat it with. Traditionally it's eaten with pita, but can accompany all kinds of things.
Beets and chickpeas are healthy foods. Beets are a great source of fiber that helps to control blood sugar, lower cholesterol, maintain a healthy weights, and stay regular. They contain nitrates, which help widen blood vessels. Beets also contain vitamins and minerals, like folate, potassium, magnesium, and vitamin C, as well as antioxidant and anti-inflammatory properties.
Chickpeas, or garbanzo beans, are high in fiber, protein, vitamins, and minerals. They can help regulate blood sugar, support digestion, and promote brain health and function.
Is this Hummus Gluten Free?
Yes, it's gluten free! All of the ingredients used in the recipe are gluten free. The only ingredient to be aware of is the tahini sauce. While tahini sauces are usually gluten free, some brands may add gluten as a thickener.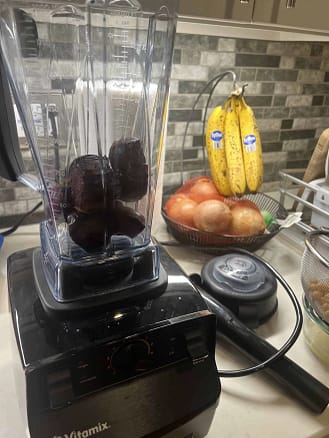 How to Make Roasted Beet Hummus
The recipe is really simple to make. The longest part will be waiting for the beets to roast and cool off to blend everything together.
Roast the beets in the Dutch oven in the oven for 60 minutes.
Wait for the beets to cool off.
Put all of the ingredients in the blender and blend.
Dip and enjoy!
Tools You'll Need
The following ingredients are needed to make this recipe:
Dutch oven with cover
High speed blender
Parchment paper
Cutting board
Knife
Strainer/colander
Bowl
Parsley (optional)
Recipe
[mv_create key="3″ type="recipe" title="Roasted Beet Hummus" thumbnail="https://mlhgh9gr38ym.i.optimole.com/w:auto/h:auto/q:mauto/f:best/https://cedarhomestead.com/wp-content/uploads/2022/02/roasted-beet-hummus-scaled.jpg"]